Surprise your family and get a few laughs at this year's Thanksgiving dinner table by being truly honest about what you are actually thankful for.
1. In spite of the recent celeb split, we can still believe in love.
2. Kanye West came back to Twitter, with his tweet-rants that are just pure quality entertainment.
3. Justin Bieber came back to Instagram, after a brief breakup hiatus.
4. OITNB Season 4 and its social commentary.
5. "Formation", Lemonade and basically all things Bey.
6. And speaking of all things Bey, her clothing line Ivy Park is now available in Canada.
7. Nordstrom and UNIQLO also being available in Canada.
8. Gilmore Girls: A Year in the Life is only 47 days away.
9. Metallic makeup.
10. Britney Spears has made a comeback with her new album and not-nearly-as-horrible-as-the-last-VMAs performance.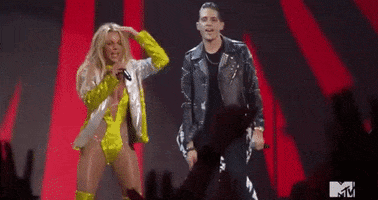 11. Dumping all that ice water over you back in 2014 actually paid off. The ALS Association reports that donations from the Ice Bucket Challenge directly contributed to researchers discovering a new ALS gene, bringing them one step closer to a cure.
12. The new Benefit Brow Collection.
13. Justin Trudeau, his great head of hair and the fact that he was the first Prime Minister to attend Pride.
14. And also his bromance with President Obama.
15. And while we're on the topic of politics, a WOMAN IS RUNNING FOR PRESIDENT.
16. And her competitor is a JOKE and you can be thankful for all the hilarious meme-inspo that he has provided.
17. And on that note, be thankful for all the Snapchat filters (and the beauty looks they've inspired).
18. Winona Ryder killing it on Stranger Things (and also just Stranger Things in general).
19. The '90s choker trend is back.
20. Actually, all the '90s trends that have come back.
21. Kendall Jenner giving us all the strength and courage to go braless.
22. Orlando Bloom's dick pic shadow.
23. The badassery that is Amal Clooney, George Clooney's wife (because it would just be so disappointing if he married a woman only for her looks and not also for her brain).
24. Leonardo DiCaprio FINALLY WON AN OSCAR.
25. All of the entertainment that Taylor Swift brings. Whether you're a fan of her music or her drama, that girl sure keeps the show going.
26. Drake's summertime hit, "One Dance" (actually, all of Views).
https://www.youtube.com/watch?v=GYIkwgyVhsU
27. And also, Drake in general. He reps Toronto so hard and is the cutest and sweetest boyfriend a girl could ever ask for (and after all that shit with Chris Brown, Rihanna deserves it!).
28. Uber still exists in Toronto.
29. Coffee (always, duh).