Still stressing over a Halloween costume for you and your S.O.? Don't panic, you still have a couple of weeks left to plan. Lucky for you, we've picked out our favourite Halloween couple costume ideas that you can put together with easy-to-find props and the clothes from your closet. From trending to classic, here are eight Halloween costume ideas that will help you and your partner win Halloween.
First up, a few classic costume picks that are a bit more unexpected.
Vincent Vega & Mia Wallace from Pulp Fiction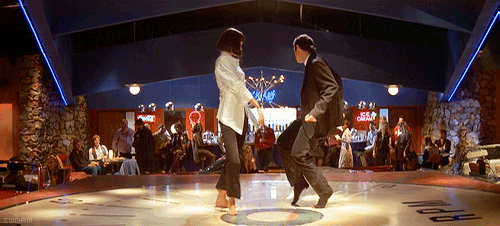 Break out into the twist and reenact the iconic dance scene from the coolest movie ever or just carry around a trophy.
What you'll need:
Her: Oversized white button down dress shirt, black pants and of course, a black bobbed wig
Him: Black suit, white dress shirt and a bolo tie (and cigarettes, many cigarettes)
Kurt Cobain & Courtney Love
Get inspired by the first couple of grunge from the 1993 MTV Music Video Awards.
What you'll need:
Her: White V-neck dress, tiara, red lipstick
Him: Striped top, red sunglasses, blonde wig
Jay and Daisy from The Great Gatsby

In case you've been dying for an occasion to glam up with your S.O., go all the way with 1920s-inspired fashion.
What you'll need: 
Her: Sequin dress, pearl necklace, feathered headpiece
Him: Black fitted suit and bow tie
JFK & Jackie O

Recreate a picture perfect moment as this iconic all-American couple.
What you'll need:
Her: White gloves and bright coloured coat + matching pillbox hat
Him: Suit and blue tie
And now, the trending costumes…You can't go wrong with these.

Mike & Eleven from Stranger Things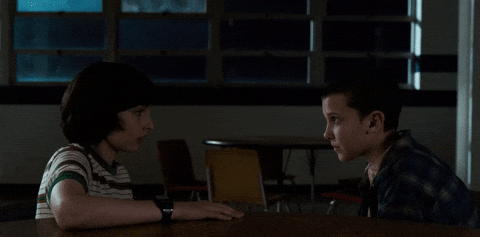 Season two hits Netflix October 27 and just like last year, we'll be seeing a lot of the Stranger Things characters this Halloween.  So why not go as the coolest couple on the show?

What you'll need:
Her: Pink collared dress, black bomber, a box of waffles and tube socks
Him: A striped polo and a windbreaker jacket
Joyce & the Wall of Lights from Stranger Things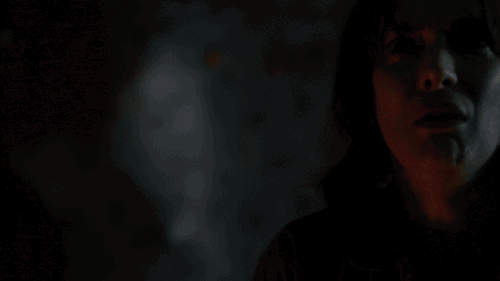 Sticking with the Stranger Things trend, you and your S.O. will receive all the Halloween praise as Winona Ryder's Joyce character and the famous wall of lights. You'll receive extra points for creativity.
What you'll need:
Her: Striped red top, green canvas jacket, toy axe or wired telephone
Him: DIY alphabet printed shirt and large Christmas lights
Daenerys Targaryen & Jon Snow from Game of Thrones

Its probably the most complicated relationship of season seven, but we guarantee people will bend the knee to this couple.
What you'll need:
Her: Blonde braided wig, black dress, and dragon pin
Him: Man bun, faux fur wrap, long cloak and a toy sword
Diana & Steve Trevor from Wonder Woman

We've seen a lot of different variations of Wonder Woman and Steve costumes in the past, but since the film became a box office hit this summer, finding the appropriate props should be easier than ever.
What you'll need: 
Her: Red top, blue shorts and cloak
Him: Green military jacket, turtleneck sweater and khaki pants
Looking for more costume  inspo? Also see our round-up of feminist-approved Halloween costumes to help you smash the patriarchy.