Looking to do something fun and different this winter? I suggest going glamping (yes, glam camping). Now before you give me the side eye, glamping this winter is definitely a real thing. My bestie, Diana and I did it a couple weeks ago in Ontario's Halliburton Highlands and channelled our inner explorers the best way millennial city girls knew how (think Nicole Richie and Paris Hilton in The Simple Life) and had the ultimate girls night ever thanks to Woods and Sport Chek. Nested along the shore of Kennisis Lake, Sport Chek has created Canada's first parka-insulated yurt, The Woods Parka Lodge, in celebration of the new Woods winter collection and the brand's historical success.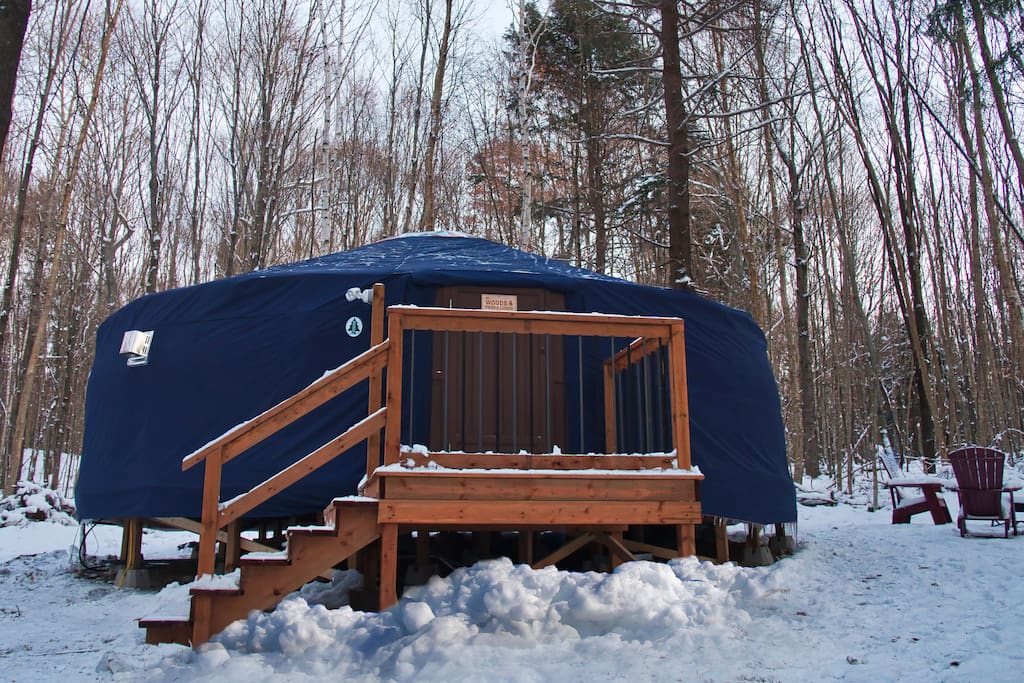 The one-of-a-kind yurt is lined with the same materials as the Woods Alverstone Expedition to ensure guest the warmest and toasty stay. It doesn't look like a lot from the outside, but inside the yurt is beautifully decorated with stylish and timeless furniture and decor, including a king-size Endy mattress, and equipped with a fireplace and a cosy food-stocked "kitchenette".  The temporary yurt is available on Airbnb now until January 31, 2019.  If that isn't enough, guests will be treated to a Woods Alverstone Expedition Parka ($550) or McBribe Bomber Jacket upon arrival to explore the winter wonderland surrounding the Parka Lodge and to take home!
The Alverstone Parka was inspired by the original Woods Parka which was developed for arctic expeditions. Available in four versatile colours, the parka features a waterproof and breathable SymaTex membrane, an interior wind skirt to secure body heat from escaping and uses 800 Fill DownTek to shield and protect you from the coldest of winters. And although this parka has the qualities of an industrial winter jacket, this parka isn't bulk at all and is designed with a straight cut silhouette and a classic fur trim hood.
So escape the city and make the trip to the wilderness to enjoy an unforgettable experience and put this winter jacket to the test. While you're there, I totally recommend snowshoe walking through the 60-acre scenic country, visiting the Haliburton Forest & Wild Life Reserve, home of Hershe the moose, and ending the night with roasting marshmallows under the stars.