They say the total package is beauty and brains. And by this, we like to think they're referring to the buzziest hi-tech beauty tools. With so many buzzy innovations and technologies built into beauty tools nowadays, it's kind of hard to determine which ones are worth breaking the bank  — because let's be honest, these tools don't come cheap. So to help you out, we're here to ensure you that sometimes the splurge is totally worth it. From a blue light acne-fighting device to one that's designed to erase years of fine lines off your face, here is a list of our must-have hi-tech beauty picks. 
Silk'n Blue Acne Treatment Device, $149 available at Shoppers Drug Mart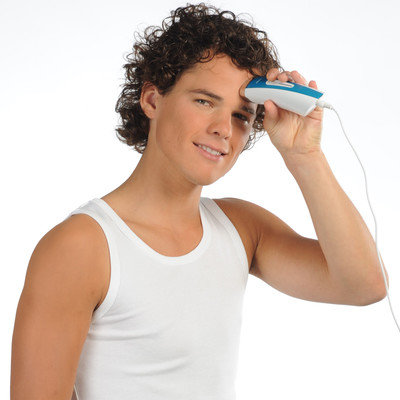 Effectively combat acne breakouts naturally and drug-free in the comfort of your home with Silk'n's Blue Acne Treatment Device. This handheld device uses natural blue light and dermal heating to kill acne-causing bacteria and to dry out the skin's sebaceous gland, which is responsible for producing excess oils when enlarged. Great for those with problematic skin, this device is dermatologically proven to visibly clear acne in just three to seven weeks.
Clarisonic Mia Smart, $229, available at Sephora
Paired with the Clarisonic app to customize your skincare routine and to track the improvement of your skin, the Mia Smart is the must-have tool that offers infinite benefits. Clinically proven to remove makeup  89 per cent better than makeup wipes and to cleanse skin six times than hands alone, it features multiple settings to help gently and effectively transition your skin to sonic cleansing. The set comes with the Daily Radiance Brush Head which offers optimal results. The Mia Smart also automatically recognizes other attachments (sold separately) for massage firming and prestige foundation application.  
Foreo UFO, $349, available at Sephora
Combining Bluetooth and hyper-infusion technology, this powerful handheld smart mask cuts down the wait time of a traditional face sheet mask to just 90-seconds. The UFO integrates thermo-therapy and T-sonic pulsations to penetrate the mask essence into the skin to tighten pores and to deliver a radiant complexion.

Dyson Airwrap Styler Complete, $650, available at DysonCanada.ca
Styling hair without extreme heat is Dyson's latest innovation, the Airwrap Styler. Made with digital motors that create that create a Coanda effect, the Airwrap styler uses high-speed jets of air combined with intelligent heat control to create full-body, sleek waves and curls. Not only does it save your hair from heat damage, but it also saves you time. This revolutionary styling tool also allows you to style damp hair to semi-dry hair. 
Nuface Trinity Facial Toner, $405, available at Sephora
Get professional results in the comfort of your home and reduce the look of wrinkles and fine lines with this easy-to-use device. The Trinity Facial Toner by Nuface is designed with smart skin sensors to enable spa-quality therapy to strengthen and improve the look of facial contours. For the best results, it's recommended to use it at least five times a week for the first 90 days.