Last night, Lady Gaga was on James Corden's The Late Late Show to promote her new album and appear on the show's Carpool Karaoke segment.
Watch it for yourself below, or not. But take my word for it: it's amazing. Just to prove how amazing I thought it was, here's 29 reasons I was living for last night's Carpool Karaoke.
Save
1. When she said (after harmonizing with the track), "I sometimes harmonize with myself. Sorry."
2. As a Torontonian with very little need for a car, it was cool to find out that at age 30, Lady Gaga JUST got her driver's license.
3. Finding out that her whole family came with her to the DMV to get said license–and that her dad cried from how proud he was of her. So cute!
4. That gold sequined blouse! The light reflected off of it and created a disco ball effect in the car.
5. All of the curse words.
6. All of James Corden's Lady Gaga-inspired costume changes.
7. This costume in particular:
8. That reenactment of Lady Gaga's phone call with "Dave from the NFL."
9. When Lady Gaga poker face-d her earring off.
10. The absolutely ON. POINT. vocals. Lady Gaga came to slay the carpool karaoke and totally succeeded.
11. The O-Town "Liquid Dreams" reference, followed by a sampling of the chorus.
12. How I definitely had to listen to "Liquid Dreams" (four times, but who's counting?) afterwards.
13. When Jame's Corden said that "Liquid Dreams" is "basically about ejaculating in your sleep."
14. That fierce eyeliner.
15. When they used the phrase, "Benedict Cumberbatch is bloody good at Sherlock Holmes," as a speech exercise.
16. What ever is going on here:
17. Those New York "hand signals" for the road.
18. Those great dance moves!
19. That shout out to Ludacris in the beginning. Did you catch it?
20. Finding out that Lady Gaga has written whole songs in 10 minutes.
21. Discovering that it takes Lady Gaga less time to write a song than I do writing a "quick piece" about Lady Gaga.
22. Watching Lady Gaga take the wheel and speed off with a terrified James Corden in the passenger's seat.
23. Jame Corden wearing a helmet to protect himself whilst in the passenger's seat.
24. Those pink hats!
25. When Lady Gaga said, "Maybe I fail fashion." As if, girl!
26. Finding out that Lady Gaga has a collection of Michael Jackson's clothes/tour costumes.
27. THIS.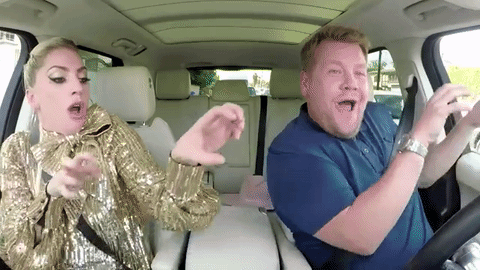 28. That ponytail! #hairgoals
29. Did we mention Lady Gaga's vocals? So. Good.
Save
Save
Save
Save
Save
Save
Save
Save
Save
Save
Save
Save
Save
Save
Save